Enhance Your Bar's Aesthetic with Promors' Custom Bar Mat
Views: 32 Update date: Aug 23,2023
Looking to enhance the aesthetic of your bar and make a lasting impression on your customers? Look no further than Promors' Custom Bar Mat. Our custom bar mats are not only functional but also add a touch of style and uniqueness to any bar setting.
Why settle for generic, plain bar mats when you can have a personalized one that reflects your brand and sets you apart from the competition? With Promors' Custom Bar Mat, you have the freedom to design your own mat, incorporating your logo, colors, and any other elements that represent your bar's identity.
Our custom bar mats are made from high-quality materials that are built to withstand heavy usage in a busy bar environment. They are not only slip-resistant but also easy to clean, ensuring that they remain in top-notch condition even after countless spills and messes.
Not only do our custom bar mats elevate the overall look of your establishment, but they also serve practical purposes. They provide an extra layer of protection for your surfaces by absorbing spills and preventing glasses from slipping or sliding. This not only helps maintain cleanliness but also reduces the risk of accidents.
Whether you run a trendy cocktail lounge or a cozy neighborhood pub, Promors' Custom Bar Mat is the perfect addition to elevate your bar's aesthetic. Impress your customers with a personalized touch that showcases your brand identity while ensuring their comfort and safety.
Don't miss out on this opportunity to enhance the ambiance of your establishment. Contact us today to discuss how we can create a one-of-a-kind custom bar mat tailored specifically for you. Let Promors help you take your bar's aesthetic to new heights!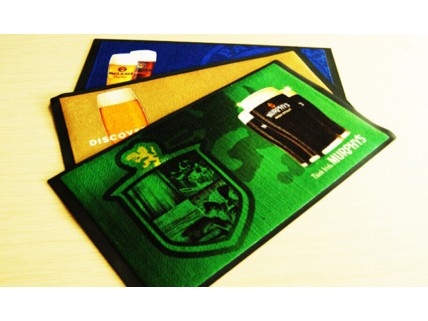 Prev News:Crafting Personalized Excellence: Exploring Custom Bar Mat and Enamel Badge
Next News:Exploring Custom Ceramic Mug and Custom Bar Mat at Promors